The Asia Scotland Institute is honoured to welcome Ambassador Mohammad Daud Yaar, the Ambassador of Afghanistan, to Scotland to discuss his country's efforts to rebuild the infrastructure of the nation with particular regard to education and women's education especially.
This is the latest in the Institute's series of Ambassador Briefings bringing Asian diplomats to Scotland to share their expertise, raise awareness and promote cooperation.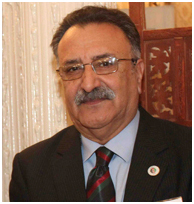 Ambassador Mohammad Daud Yaar, Ph.D.
Mohammad Daud Yaar was born in Kabul, the capital city of Afghanistan. He graduated from the Faculty of Economics, Kabul University (1973). He taught at the Faculty of Economics at Kabul University before receiving a Fulbright Scholarship to study at Bowling Green State University, Ohio (1974-1976). After receiving a Master's Degree in economics, Mr. Yaar returned home and continued at his teaching position at Kabul University as Assistant Professor. In addition to teaching economics, Mr. Yaar worked as advisor at the Department of Economic Analysis, Ministry of Planning, and the Central Statistical Office of Afghanistan (July 1976-June 1978).
Following the communist coup in April 1978, Mr. Yaar escaped persecution on political grounds and migrated to the Federal Republic of Germany, where he was admitted at a Ph.D. program at Cologne University (1979). He received his doctorate degree in economics from that university in 1985. While working on his Ph.D., Mr. Yaar served as the CEO of the Verein fuer afghanische fluechtlings Hilfe, e.v in Bonn. In this capacity, Mr. Yaar raised and managed humanitarian aid to assist Afghan refugees in Pakistan and Iran. As part of this job, Mr. Yaar traveled to Afghanistan and established humanitarian aid centers in areas that were free of the Soviet occupation.
In 1987, Mr. Yaar and his family migrated to the United States, where he took a teaching job at California State University-East Bay. Mr. Yaar taught as a lecturer at that institution from September 1988 until August 2008.
In September 2008, Mr. Yaar returned to Afghanistan to serve his country. In January 2009, Mr. Yaar was appointed as economic adviser to the Office of the Chief of Staff of the President. In February 2010, Mr. Yaar took up the position of the Director of Policy and Oversight at the National Security Council Office. In February 2011, Mr. Yaar was appointed as Director General of Economic Affairs at the Ministry of Foreign Affairs. In June 2012, he was designated as ambassador to the UK by His Excellency the President of Afghanistan. Mr. Yaar presented his credentials as ambassador to Her Majesty the Queen on October 24, 2012.
Mr. Yaar's research interests lie in the areas of economic development and history of knowledge. He is interested in world history and evolution of civilizations. He is the author of numerous articles published in Dari and English. Currently, Mr. Yaar is working on a book entitled "Symbiosis of Scientific Thought and Experience of Economic Growth" to be published in 2013.
As a diplomat, Dr. Yaar has specialized in regional economic diplomacy. He is keenly interested in regional economic integration as a strategic tool for promoting lasting peace and stability in the greater Central Asian space. He considers the European integration experience as a valuable model to promote regional peace and economic growth in Central and South Asia.
Mr. Yaar is married since 1973 and has three children. He speaks fluent English and German. His native languages are Pashtu and Dari.